XCloner is the easy, free and reliable way to backup your WordPress sites.
XCloner supports a lot of brand-name storage options such as Amazon S3, Dropbox, Azure, and Backblaze. But there are a lot more places you can store your backups. We looked at the cheapest backup options for WordPress sites and found that some of the most affordable options were not household names.
Koofr, pCloud, IceDrive, IDrive and more are all trustworthy and reasonably-priced places to store your backups. And there are plenty more out there including Box, Yandex and CloudMe.
What all these have in common is that they use WebDav. I'm going to give you a guide to WebDav and how it can save you a lot of money when you're storing WordPress backup files.
What is WebDav?
WebDav is short for "Web Distributed Authoring and Versioning".
The history of WebDav a callback to the early days and ideas of the internet. It started in 1996 and the idea was that people could work together to create content. Think of an early version of Google Docs.
However, that idea didn't last long and most webpages became read-only. The people who build websites mostly didn't want the dirty, unwashed public to edit anything on their site.
Nearly 25 years later, and WebDav is still being used but mostly for servers rather than webpages. Any server that supports WebDAV can work like a fileserver. So in 2020, you'll often see WebDav used for storing files. These could be podcast episodes, media files, or backups.
How do I use WebDav with XCloner?
Here is our guide to using WebDav. It's part of the general XCloner documentation.
Here are key links to backup services that use WebDav:
How do I access files stored with WebDav?
You can think of WebDav as very similar to FTP and SFTP. I use Transmit for managing files, and WebDav is listed as one of the popular options: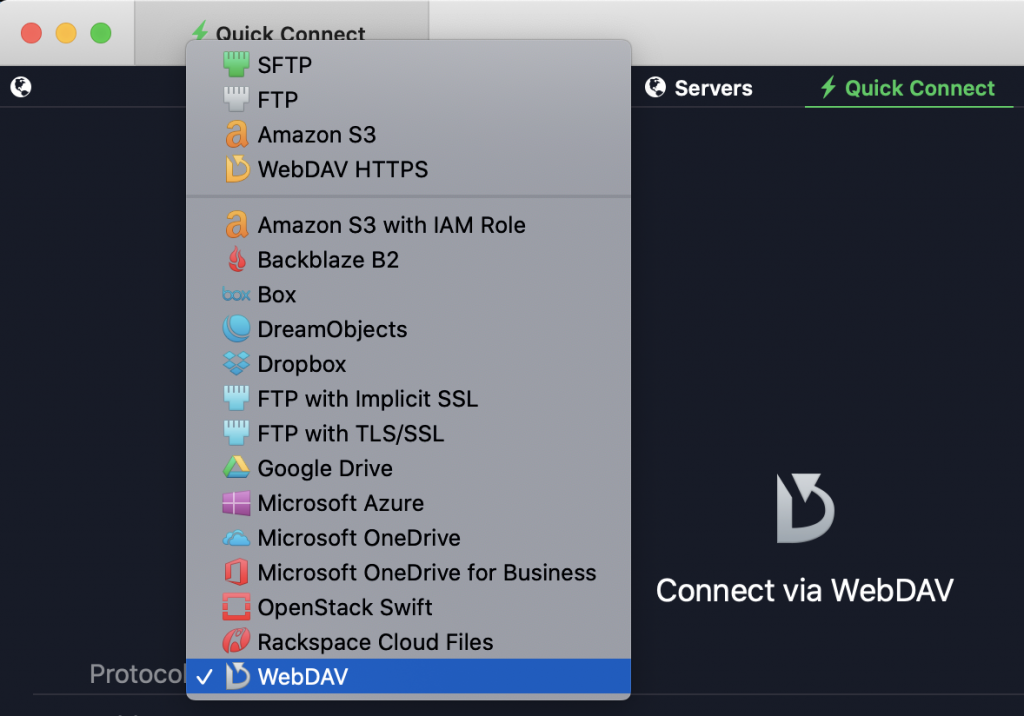 As with FTP and SFTP, you need a few common login details:
Address
Username
Password
Port

For Filezilla, you will need the Pro version for WebDav support.
With Cyberduck, there is WebDav support in the free version.
WinSCP is a good free option for Windows users who want WebDav support.
WebDav Summary
You may see the acronym "WebDav" often on the XCloner site, but don't feel nervous. If you can handle FTP and SFTP connections, then you can handle WebDav. And WebDav is a very effective method for backing up your site. It's one that works with many different storage services.